Home
/
NEASC Virtual Global Forum
Restarting School Athletics and Activities
July 14, 2020 - 9:00 a.m. ET
We've invited the directors of several athletic programs and associations in the US and abroad to discuss the challenges facing schools and districts that are restarting school athletics and other activity programs.
Guest panelists:
Carol Dozibrin
Executive Director, New Hampshire Athletic Directors Association (NHADA)
https://nhada.net
Martin Halpin
Athletics and Activities Director, Western Academy of Beijing
https://www.wab.edu
Mike Lunney
Incoming Executive Director, Rhode Island Interscholastic League (RIIL)
https://www.riil.org
Karissa Niehoff
Executive Director, National Federation of State High School Associations (NFHS)
https://www.nfhs.org
Lamar Reddicks
Athletic Director, Milton Academy, Milton, MA
https://www.milton.edu
David Utterback
Athletic Director, Brewer High School, Brewer, ME
http://www.brewerhs.org
Approximate run time: one hour
As of July 2020, we will be scheduling #NEASCforum webinars twice monthly. All Forum sessions will be approximately one hour in length, and will start at the following time:
9:00 a.m. ET (New York, USA)
2:00 p.m. BST (London, UK)
5:00 p.m. GST(Dubai, UAE)
9:00 p.m. CST (Shanghai, China)
Thank you for joining the webinars, contributing your questions, and sharing your thoughts with us. We are tracking the questions and topic suggestions webinar attendees have submitted and will continue to develop future sessions based on your interests.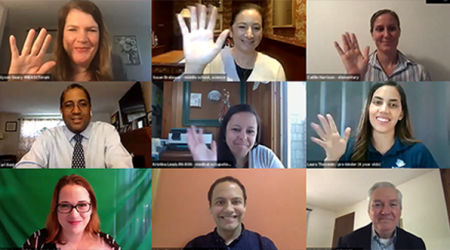 We have created our "Virtual Global Forum", an ongoing webinar series, as a space where educators can connect, have pressing questions addressed by their peers and experts in the field, and where colleagues can share their stories and insights.
We at NEASC believe that learning can happen anywhere and anytime and encourage you to embrace current circumstances as a chance to pilot some creative new learning opportunities — for both students and staff. We hope this new series will be a source of inspiration as you forge ahead, and we look forward to the ongoing conversations.

Warm regards,
Cameron C. Staples
President/CEO, NEASC
We are sharing resources associated with the NEASC Virtual Global Forum sessions or provided by our panelists and attendees for your reference and convenience only. NEASC does not control the referenced materials and is not responsible for their content, nor does NEASC's inclusion of links to such materials imply any endorsement of the material or any association with their creators. Please see the NEASC Website Terms and Conditions for more details.