Collaboration through Accreditation – A Teacher's Perspective
By Karon McGovern, English Teacher
New Fairfield High School, CT
I started my teaching career in New Fairfield Middle School nearly seven years ago and I have quickly come to learn "that a Thing which seemed very Thingish inside you is quite different when it gets out into the open and has other people looking at it" (Milne, The House at Pooh Corner, 1928, ch. 6). Moving to the High School after a year, and now having been in the High School for just over five years, I realize that, seriously, no man is an island. Not at all. Not by a long stretch. I've realized that the best moments in teaching come from collaboration with others; not just other teachers, but everyone who makes up our school community from department peers, to colleagues in other departments, school counselors, administration, special education, support and buildings staff, and of course the students and their parents/guardians. When collaborating with others you really do find that "thingish thing" inside yourself seeming less frightening when you share, and when you have other people looking at it.
This collaboration was highlighted to me as we, in the high school, went through the NEASC Accreditation process. For almost two years, administrators, teachers, and support staff formed a number of different committees to analyze and discuss what we, as a school, do well and what we can improve on. We had to share information that helped develop a cross curricular perspective, as well as building a shared perspective based on years of service in this school. In these committees we found that we were speaking with people we seldom spoke to on a regular basis. From a personal angle, having travelled pretty well around the world and having lived on three continents, as I reflected on our collaboration activities I found it amazing how big the world can feel within the confines of our small school building.
Nothing can happen in this world if we don't talk, if we don't meet and look each other in the eye to discuss ideas, thoughts and feelings, because if there ever comes a time when we're ever done talking…we're done…as a society. We need to collaborate every day. We don' t have to go to each other's weddings, or children's weddings; we don't have to send birthday cards and Holiday cards, but talking allows us all, in all walks of life, old and young, to find that "Thing which seemed very Thingish inside you, is quite different when it gets out into the open and has other people looking at it." Collaboration is not only what makes our school the success it has been, it not only brings us together as a body of people who support our students (whoever we are and whatever role we fulfill), quite simply…it makes the world go around.
NEASC 2019-05
Image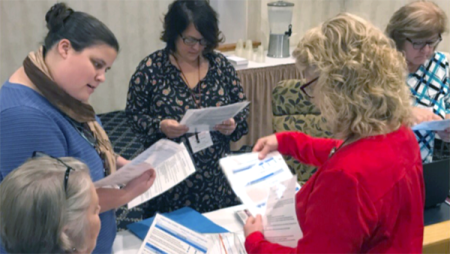 During the NEASC experience, we became one world, not one separated into different continents. We collaborated and we came together as one to support our little village (our school).