Carl Johnson
Carl Johnson
Associate Director for Accreditation and School Improvement
NEASC Commission on Public Schools
+1 781-425-7718  |  cjohnson@neasc.org  |  LinkedIn  |  @MrCarlRJohnson
As Associate Director, Carl helps guide member schools through the NEASC Accreditation process and serves as a partner in their ongoing school improvement.
Carl joined NEASC in 2023 after two decades serving as an educator and administrator in Connecticut schools. Carl began his career as a social studies teacher at Farmington High School before becoming student activities director in 2013. He then served as assistant principal and principal at Plainville High School. During his time as principal, Carl helped Plainville High School through their decennial accreditation process and chaired eight of the eleven NEASC Accreditation visits he has been involved with. He received a Bachelor of Science in History, a Master of Arts in Education, and received a sixth-year diploma in educational administration from the University of Connecticut.
Carl believes that the NEASC Accreditation process is invaluable to member schools. Collaborating and supporting schools on their journey of growth and development has been a powerful experience for him.
"The Vision of a Graduate from Creation to Implementation"
Pre-conference workshop, December 6, 2023
Join me! I'll be presenting at the 2023 NEASC Leadership Conference
#NEASC2023 #SustainableInnovation
Learn more
Image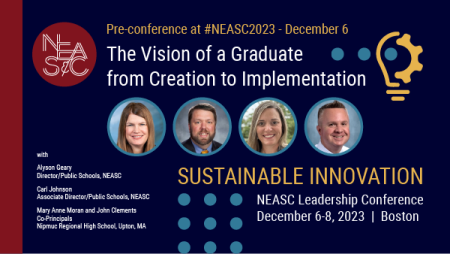 Image