Alyson Geary
Alyson M. Geary
Director for Accreditation and School Improvement
NEASC Commission on Public Schools
+1 781-425-7736  |  ageary@neasc.org  |  LinkedIn  |  @ageary16
As Director for the NEASC Commission on Public Schools, Alyson sets forth the vision and goals for the Commission each year, facilitates communication between commission members, staff, and volunteers, and works directly with member schools to guide them through the NEASC Accreditation process.
Alyson worked in public schools as an educator for six years and as a principal for nine. Beginning her journey in Las Vegas, Alyson moved to Massachusetts where she worked as assistant principal and then principal for Hopkinton High School. She received her Master of Education in School Leadership from Harvard University. Prior to joining the NEASC staff in 2013, Alyson served as a member of the NEASC Commission on Public Secondary Schools, chairing several visiting teams for decennial accreditation visits.
Alyson believes that NEASC is an advocate for all of the students in the hundreds of schools she works with and that it is our responsibility at NEASC to improve the educational experience for students in all schools.
"The Vision of a Graduate from Creation to Implementation"
Pre-conference workshop, December 6, 2023
Join me! I'll be presenting at the 2023 NEASC Leadership Conference
#NEASC2023 #SustainableInnovation
Learn more
Image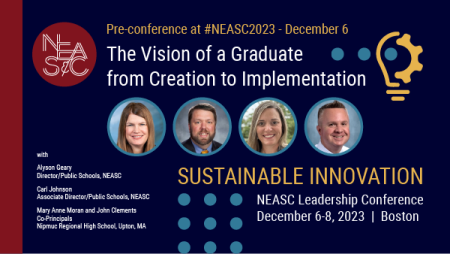 Image