James J. Brosnan named 2018 Richard J. Bradley Award recipient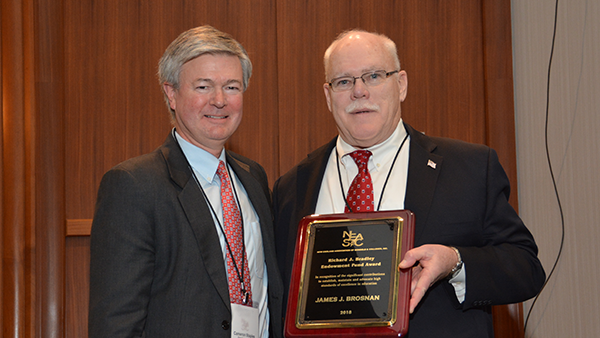 James J. Brosnan, Superintendent of McCann Technical School in North Adams, MA and the immediate past chair of the NEASC Board of Trustees, was presented with the New England Association of Schools and Colleges (NEASC) Richard J. Bradley Endowment Fund Award at the 133rd Annual Meeting and Conference in Boston on Friday, December 14, 2018.
This distinguished award, named for the longtime Executive Director of NEASC, is presented annually to an active New England educator who has made significant contributions to the work and purpose of NEASC and whose exemplary work maintains and advocates high standards of excellence in education.
As Chair of the NEASC Board of Trustees, Brosnan oversaw and maintained a smooth corporate restructuring as the former NEASC Commission on Higher Education (now operating as NECHE) transitioned to a "separate and independent" entity as required by the US DOE. The process involved a tremendous amount of time and effort over the past few years, and those who worked with Brosnan have lauded his high level of engagement, attention to detail, and dedication to ensuring that NEASC continue to be effective in its mission to assess, provide support to, and promote high quality education in schools across the K-16 continuum. 
Upon receiving the Bradley award, Brosnan stated, "It is humbling to be recognized by peers... (but) it's all about our students."
Photo: Jim Brosnan (right) receives his award from Cameron Staples, President/CEO of NEASC, at the 133rd Annual Meeting and Conference in Boston on December 14, 2018.