Conference App
NEASC Annual Conference and Showcase
December 5-6, 2019
Burlington, MA, USA
#NEASC2019 #designed4learning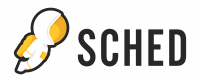 Sched.com 
Sched.com is available to keep you up-to-date on this year's conference information, create custom agendas, and network with other attendees.
To access event information
Click on the Sched icon on your mobile device to open the app, or access the event through your web browser at https://neasc2019.sched.com
 
To find this year's conference, type "NEASC" in the search bar. 
 
Click the resulting event icon to access the information.
IMPORTANT:
If you have previoulsy used Sched, the app may default to an older cache of information. To refresh the event, click on "My Account" then "Change Events", and retype "NEASC" to update the information.
Instructions for downloading and online guides:
Desktop, laptop, and other device users
Sched.com offers several online guides to help event attendees set up their profiles, personalize their schedules, manage connections, and so on.
Go to the online guides: https://sched.com/support/section/guide-for-attendees
Whether or not you choose to creat a Sched.com account and log in, you will always be able to view schedule and speaker details. However, if you would like to access all of the app's features, interact with other attendees, and use personalized functions you will need to log in.