CSSR partners with NEASC for Annual Conference and Showcase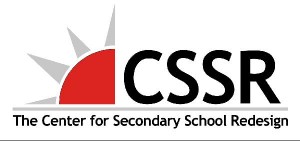 December 5-6, 2019
NEASC Annual Conference and Showcase
Marriott Hotel, Burlington, MA
We are pleased to announce that the Center for Secondary School Redesign (CSSR) has agreed to be our 2019 event partner for this year's NEASC Annual Conference and Showcase in place of hosting their annual Showcase of Model Schools in San Diego (previously planned for the winter of 2020).
As described by George Edwards, Director of the Commission of Public Schools and conference chairman, this two-day conference will be "a combination of our previous Annual Meeting and Conference (formerly held in December in Boston) and our Showcase of Model School Programs (normally held in October in Westford, MA)." The theme for this year's event is "Designed for Learning" with a focus on Innovation and Design Thinking in education. With its new location at the Marriott Hotel in Burlington, MA, the conference is convenient to many major highways and an easy commute from Logan Airport.
Pre-conference activities on December 4th are also in the works. For example, opportunities for attendees to tour innovative area schools that exemplify student-centered approaches as well as an ACE Learning workshop hosted by NEASC International.
NEASC has put a lot of thought into choosing keynote speakers who understand design thinking, and speaker presentations will be scheduled to build upon one another so that participants can return to their schools understanding how to apply design thinking in their own settings. As George Edwards shared, "This will best allow schools to understand how to use the philosophy to assess the unique challenges that they face."
Who should attend: K-12 teachers and administrators, and individuals or organizations actively involved in the K-16 education continuum